In this video you will discover how to quickly edit a BIM model thanks to AUTOBIM3D: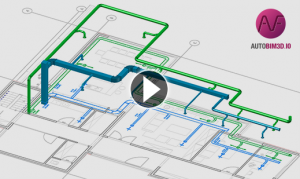 – Export the 2D plans from Revit
– Design in 2D in your usual CAD software, and generate the 3D networks
– Import the 3D networks into Revit.
AUTOBIM3D manages floors connections.
It will soon allow export to IFC and/or Revit native entities.
AUTOBIM3D's built-in options will also let you quickly recreate a 3D architectural environment into your CAD software, and generate 3D views snapshots to enrich your 2D layouts.
Reminder! The software were used in this video for example purposes: AUTOFLUID has several other compatibilities.
Contact our Commercial Service for more information, and get a trial version or even a live personalised demonstration.